Description
The DisplayPort to HDMI adapter enable you to connect any HDMI interface embedded device (HD TV, Monitor, Projector...) with a DisplayPort interface (Desktop, Laptop).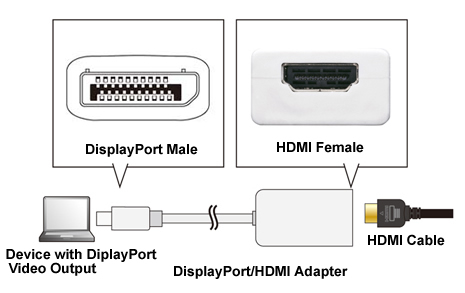 * Compliant with DisplayPort Specification V1.1a at 1.62/2.7Gbps data rate (Low bit rate/High bit rate)
* Protocol: Support DPCD Rev.1.1 & Support HDCP 1.3 with HDCP key embedded
* Resolution: up to 1920X1200 / 1080p
* Connector DP male to HDMI female
* Total Length: 7" (connector edge to edge)
* Connector housing dimensions:
HDMI side: 1-3/4 (L) x 1 (W) x 5/8" (H)
DP side: 1-7/8 (L) x 3/4 (W) x 1/2" (H)
* Cable length: 2-3/4"
* Gold plated connector
* Housing and cable color : White
Payment & Security
Your payment information is processed securely. We do not store credit card details nor have access to your credit card information.